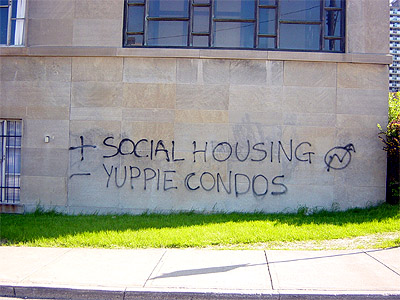 To many New Yorkers, the 1970s and 1980s were a turbulent, dark era in which the urban landscape of the city appeared bleak. After the cautious optimism of the 1960s, the sudden increase in crime, the rise of unemployment, and the collapse of urban infrastructure came as a shock. Perhaps the most vivid imagery of this era is the emergence and spread of graffiti throughout the city. Starting in the early 1970s, graffiti originated as personal markings meant to convey a territorial message, but it soon developed into a more abstract artform. What once were scribbles and signatures evolved into elaborate expressions of social discontent and subversion. Across the city, the mundane was transformed into the extraordinary. The ubiquitous red subway cars were turned into a canvas for expressing both creativity and grievances with the community at large. Artists appropriated the medium of graffiti to create murals and sculptures throughout depressed parts of the city, creating the genre of street art.
It may be idealistic (or just plain incorrect) to view graffiti as a positive force in society–after all, graffiti defaces personal property andincurs great cost to both property owners and the government–but graffiti formed an important niche in society. Amid the swathes of abandoned and burnt-out neighborhoods that plagued the city,graffiti stood as a way to give a voice to the voiceless. Graffiti created a public discourse for those who were left behind during a period of high social and economic hardship. However, attempts to reduce crime and disorder in New York by various administrations pegged graffiti and other aesthetic issues as the main cause of high crime rates. If graffiti was removed, they argued, then surely crime rates should go down as a result. This "broken window theory" has since been proven incorrect by countless studies that conclude that the emergence of graffiti was a reaction to the strife in urban areas. Yet the legacy of this theory is still an influential part of current city policy.
New York is a very different city today. The decrease in crime rates during the 1990s led to waves of gentrification throughout the city, transforming downtrodden neighborhoods such as Park Slope and the East Village into trendy, racially homogeneous areas, while pricing out the original residents in the process. While graffiti will always be present in the city, the remarkable displays of the 1970s and 1980s are long gone, and with them, a venue for public discourse. Graffiti may now be viewed as a symbol of an era of urban decay long past, but its importance as a voice for the disenfranchised is still relevant. A sanitized, gentrified New York City devoid of subversive voices is a New York City without a soul.
-James Marlow